Copyright © AIDS Center
2006
---
US-Georgia Workshop
---
Infectious Disease Research Conference: Building a Regional Research Agenda

June 15-16, 2011
Courtyard Marriott (Freedom Square)
Tbilisi, Georgia


Overview
The major goals of the conference are:
To update participants on TB, HIV, Hepatitis epidemiology, prevention, and treatment, especially in the context of implementing programs in Georgia.
To discuss infectious disease and other heath care research priorities in Georgia.
To review research ethics, with specific reference to IRB training and capacity building in Georgia.
To continue to broaden and enhance research training collaborations with in-country, international, and US institutions.
To continue mentoring of Fogarty graduates who have returned to Georgia in the development of new proposals, publications and their academic careers.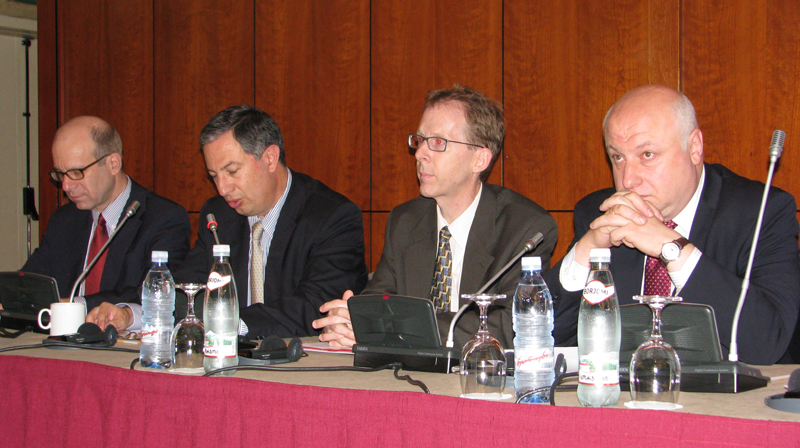 The audience includes researchers and physicians from Georgia working at institutions that collaborate with NIH Fogarty International Programs as well as former trainees. Additionally, key leaders from Georgian public health institutions and US supported research training programs will be invited to discuss opportunities to enhance collaborative multidisciplinary infectious disease research.
The conference will be jointly conducted by the International Training and Research Programs at SUNY Downstate Medical Center, University at Albany, Emory University, and Johns Hopkins University, along with the Infectious Disease, AIDS and Clinical Immunology Research Center in Tbilisi, the Georgian National Center for Disease Control and Public Health, the National Center for TB and Lung Diseases and the Georgian National TB Program and National Reference Laboratory.

Objectives
By the end of this conference, participants will be able to:
Describe recent developments in HIV, TB and hepatitis and how new strategies in surveillance, prevention and treatment may be implemented in Georgia.
Identify research priorities in infectious disease and other healthcare issues in Georgia.
Identify potential avenues of collaboration for infectious disease research and surveillance training programs in Georgia.
The final product of the conference will be a list of strategies on how to leverage current in-country training programs with FIC training; generated list of proposals for external funding agencies and a list of potential publication submissions for current projects with targeted journals, in-country and US authors.
Day 1 – Wednesday, June 15, 2011

Title

Speakers/Facilitators

Opening Remarks

Greetings/Opening Remarks



Update on Infectious Disease Program Implementation in Georgia

Iagor Kalandadze, PhD
Georgian National Center for TB and Lung Diseases (TB + MDR/XDR)

Tengiz Tsertsvadze, MD, PhD
Infectious Diseases, AIDS & Clinical Immunology Research Center  (HIV)

Moderator:
Carlos del Rio, MD



Address by First Lady of Georgia

Ms. Sandra E. Roelofs
First Lady of Georgia



HCV Surveillance in Georgia

Nata Avaliani, MD, MPH
Georgian National Center for Disease Control and Public Health



New Developments in Infectious Disease:
Updates on HIV, HCV, and TB Treatment

Carlos Del Rio, MD
Emory University

Henry Blumberg, MD / Russell Kempker, MD
Emory University



Report of a Successful HIV Control in IDUs in Taiwan: A Model Approach

Kenrad Nelson, MD
Johns Hopkins University



WHO Strategy on Research for Health:
What Could Be Considered for Georgia?

Amiran Gamkrelidze, MD, PhD
Country Programme Coordinator for STIs/HIV/AIDS
World Health Organization, Georgia



Roundtable:
Selected Healthcare Research Priorities in Georgia

Mikheil Dolidze, MD
Deputy Minister of Health

Nona Tadumadze, PhD
Georgian National Center for TB and Lung Diseases

Nikoloz Chkhartishvili, MD, MS
Infectious Diseases, AIDS & Clinical Immunology Research Center

George Kandelaki, MD
Georgian National Center for Disease Control and Public Health

Moderator:
Jack DeHovitz, MD, MPH


Day 2 – Thursday, June 16, 2011

Title

Speakers/Facilitators

Update:
US CDC / NCDC FELTP Research, Lab, and Training Activities

Public Health Laboratory Network in Georgia
FETLP Update
MDR-TB Surveillance in Georgia

Maia Butsashvili, MD, MS
Georgian National Center for Disease Control and Public Health

Edmond Maes, PhD
Thomas Rush, PhD
US CDC - FELTP 

Tamar Togonidze, MD
FELTP Fellow

Moderator:
Dale Morse, MD, MS



Ethical Frameworks and Human Subjects Research: From Principles to Policies

Sean Philpott, PhD, MSBioethics
Union Graduate College



US-Georgia IRB Relationships:
10 Years of Experience

Louise-Anne McNutt, PhD
SUNY Albany School of Public Health



Panel: 
Developing Research Ethics Capacity in Georgia: Strengthening of Georgian IRBs

Givi Javashvili, MD, PhD
National Bioethics Council of Georgia
Tbilisi State Medical University

Sean Philpott, PhD, MSBioethics
Union Graduate College



Fogarty Trainee Research Project Update:
TB, HIV, and Hepatitis

Sergo Vashikidze, MD
Medea Gegia, MD, MSc
Nestani Tukvadze, MD
Giorgi Kuchukhidze, MD
Nika Chkhartishvili, MD, MS



Moderators:
Henry Blumberg, MD,
Carlos del Rio, MD and
Louise-Anne McNutt, PhD